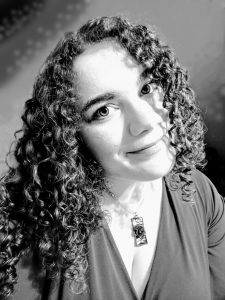 Biography:
Kayleen Marie Roussin is an accomplished musician originally from Joliet, Illinois. At the age of four, she was enrolled in private music instruction at the Convent of St. Francis under the direction of Sister Maria for piano lessons. In her young years, she performed in many school talent shows and show choirs. After relocating to Fayetteville, NC, she continued her music education on her own, teaching herself piano and voice. At the age of ten, she became a cantor for Sunday mass on Fort Bragg as well as the school weekday mass at St Patrick's Catholic Church. As a senior in high school, she managed to go down in history as the first person to ever get admitted into the North Carolina Honor's Chorus from her school; she was one of fifty girls selected from the whole entire state out of thousands who auditioned. This was also the year where she first began accompanying mass as substitute pianist on Fort Bragg.
Once accepted into University of North Carolina at Pembroke, Kayleen won the Musical Theatre Scholarship Award and began her studies as an actress. After a year as a Musical Theatre Major, she switched to Music Education in order to understand how to teach students. During this time she began working as a full time accompanist and eventually, music director on Fort Bragg despite her young age. She then continued her studies in Music Composition at Methodist University in Fayetteville, NC. Kayleen then served as the Music director and pianist at Our Lady of Peace Catholic Church at Offutt AirForce Base in Nebraska. Not too long after, she found herself working in California as the accompanist and Spanish Choir director at Our Lady of Mount Carmel in Carmel Valley. She also worked as soloist at the First Church of Christian Science of Monterey where she sang weekly on their worldwide broadcast. During her stay in California, Kayleen graduated from Monterey Peninsula College with High Honors earning three Associates Degrees: one in Music, Arts and Humanities, and Social Science.
After moving back to her beloved North Carolina in 2020, Kayleen auditioned at Methodist University and earned a full scholarship to pursue her Bachelors of Arts in Music Composition. Kayleen has been seen performing many times locally in the Fayetteville area. Some of her performances and guest solo appearances include the HASM Choir, the Cumberland Oratorio Singers, and the Cross Creek Chorale, all sponsored by the Fayetteville Arts Council. She has also performed with the Fayetteville Symphony Orchestra for the production of the Faure Requiem Mass and Chechester Psalms as part of the Chorus. In 2017 she played in a benefit concert in a Christian Rock Band as the pianist and backup singer to raise money to send the military children to World Youth Day in Poland. While In California, she performed in many concerts and choirs, including Dr. Cyril Deaconoff's I Cantori, a high level performance group that travels internationally. She also recorded vocals for CD the new piece "Blue Remembered Hills" by George Peterson at the Monterey Composer's Forum.
Currently, Kayleen's days are filled with numerous rehearsals and hours of practicing as she works as the Music Director at St. Anthony of Padua Catholic Church in Southern Pines North Carolina. She enjoys all types of music and truly has a passion for writing religious pieces. When she isn't dedicating time to music, she is often found painting landscapes at the beach, or hiking in the mountains. She now stays in Fayetteville with dog, Jacques-Jacques enjoying her time performing locally and teaching private piano and voice lessons to all ages.