Dr. Carlos Castilla (School Director-Guitar Instructor)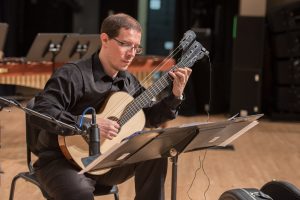 Carlos Castilla, has been featured as a soloist with orchestras and chamber ensembles, as well as in solo recitals in different cities of Latin-America and the United States. Carlos is the co-founder of Duo Guitiano, along with Cuban-American pianist Amanda Virelles. Duo Guitiano specializes in the repertoire originally written for the guitar-piano duo setting, from 19th century to the present day. In their path, they have rescued forgotten scores from the golden age of the guitar/piano duo, bringing back to life the tradition of this peculiar ensemble.
Dr. Castilla holds a Bachelor of music from Los Andes University at Bogotá-Colombia where he studied with Maestro Jaime Arias Obregón, and also holds a Master degree and a Doctorate in Guitar performance and pedagogy from the University of Southern Mississippi, studying with Dr. Nicholas Ciraldo.
Before coming to the United States, Carlos worked as a guitar professor at Universidad del Atlántico in his native Barranquilla, Colombia, where he also founded and directed the Philharmonic Society of Barranquilla (SOFIBA), institution that organized and promoted a vast array of cultural events in the community.
Carlos is a devoted teacher and performer and is constantly engaged in recitals, chamber music collaborations, recording sessions and musical theater shows. After living in Nashville, TN for four years, where he taught at Middle Tennessee State University and Tennessee State University, he currently resides in Fayetteville, NC and teaches at Methodist University, Fayetteville State University, North Carolina State University, Coastal Carolina Community College, and is the owner and founder of Fayetteville School of Music, LLC.
Carlos recordings of solo and duo repertoire are available on iTunes, Amazon and Cdbaby.