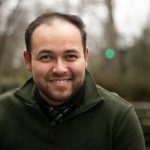 As an educator and composer of music, Andrew M. Sanchez bridges the gap of American jazz and Western classical music in his compositions to appeal to wider audiences and to educate the idea of "music is just music" to strictly single-genre artists.
Holding the position of head field commander and student conductor during his high school years, Sanchez found his passion for composing and conducting at an early age and began to write music ranging from small chamber ensembles to full fledged concert band and orchestral compositions. Sanchez has written, performed, and recorded music with top jazz artists such as JD Allen, Bria Skonberg, Matt Wilson, and Melva Houston, while also writing for notable jazz orchestras such as The Piedmont Triad Jazz Orchestra.
Receiving his Bachelor's of Music Performance in Jazz studies from the University of North Carolina at Greensboro, Sanchez engages audience members and listeners to become a part of his music, making it accessible and enjoyable to anyone. He enjoys bringing people of different backgrounds and social classes together to become an integral part of his music making.
Sanchez leads "Andrew Sanchmo Sanchez and His Hip Six", a septet incorporating early New Orleans style music with his own original taste. In addition to performing in jazz festivals, The Hip Six tours schools and universities to inform and educate students on the importance of our American music and where it originated. Using this ensemble, he eliminates what is "jazz" and what is "classical" to form it into, simply, music using his own original compositions with the American attitude.
An Outer Banks native of North Carolina, Andrew Sanchez currently resides in Fayetteville where he teaches piano, trumpet, and flute at the Fayetteville School of Music. Andrew also serves as the Director of Contemporary Music & Worship Arts at Haymount United Methodist Church.